Cloud Managed Hardware

Enhanced with Advantech Total Shield
Hardware-as-a-Service (HaaS) mimics the popular Software-as-a-Service model, giving access to hardware along with accompanying software, maintenance, installation, and upgrades.
Advantech Total Shield eliminates the complexity of the traditional monolithic purchase model by turning them into secure, fully managed services leveraged for your business. Bringing your company all the benefits with none of the stress.
Single point of contact - No need for you to spend your valuable time contacting vendors for billing or technical questions we will handle all of the behind-the-scenes work.
Round the clock monitoring - 24/7/365 monitoring for service disruptions, problems, or security threats means you never have to worry about the tools that your business relies on.
Remote Management - We love to visit our clients in person but Cloud Managed Services allow for 99% of tech calls to be resolved right away with minimal disruption to your day.
Jump over the hurdle of upfront costs - it often makes more economic sense to not own an asset. Businesses can take assets off of their balance sheet and manage costs as an operating expense.
Value Aligned to Actual Needs, Rather than Bells and Whistles - Hardware-as-a-service solutions must be built around real customer needs, and more closely aligned to solve customer problems. You get out of the trap of over purchasing a solution with features, bells, and whistles that you never use.
Below you will find a selection of our Managed Hardware Offerings.
Advantech Total Shield CloudGen Firewall from Barracuda
Advanced Network Security Made Simple
Overview­

This powerful turnkey solution provides robust protection to secure multiple networks from advanced threats — all from one centralized management console.
Integrated Next-Generation Security
The Advantech Total Shield CloudGen Firewall from Barracuda is designed and built from the ground up to provide comprehensive, cloud-generation firewall capabilities. Cloud-hosted content filtering and reporting offload compute-intensive tasks to the cloud for greater resource efficiency and throughput. Based on application visibility, user-identity awareness, intrusion prevention, and centralized management, this firewall is the ideal solution for today's connected businesses.
Regaining Control of User Activity
The Advantech Total Shield CloudGen Firewall from Barracuda extends security coverage beyond network boundaries and makes it easy to monitor and regulate your network and everything users are doing.
Optimize the security, performance, and availability of your networks
Centralized control makes it easy to deploy across multiple locations
Intelligent traffic regulation prioritizes critical system performance
Powerful Advanced Threat Protection and dual antivirus engines, combined with IDS/IPS, protect against malware, ransomware, and zero-day exploits

Key Features
Firewall – Application control and granular application enforcement; interception of SSL/TLS encrypted applications
User Identity Awareness – Supports authentication of users and enforcement of user-aware firewall rules; works with a variety of authentication methods including Wi-Fi access point vendors like Aerohive, Aruba, and Ruckus
Intrusion Detection and Prevention – Comprehensive real-time protection against exploits, threats, and vulnerabilities
Advanced Threat Protection – Dynamic analysis of malware programs and documents with embedded exploits
Malware Protection – Shields the internal network by scanning web content, emails, and file transfers
Fast and Easy Troubleshooting – Real-time information and comprehensive logging capabilities
Easy-to-read Reporting – Enables us to automatically create reports for you on all deployments or select deployments
Comprehensive Traffic Optimization – Intelligent traffic regulation and tightly integrated Quality of Service (QoS) and link balancing capabilities
Remote Access – Browser-based SSL VPN, dedicated VPN clients, and Network Access clients; remote access app, featuring Barracuda's Zero-Touch Deployment
Managed Networking
Routers, Switches, and WiFi Access Points

A complete networking stack from Datto networks managed by Advantech is modern business networking done right.
The network is your business's critical operating backbone, so it deserves the very best. Our networking stack provides:
Best-in-class features
24/7/365 monitoring
Next-day replacements shipped to you already preconfigured to get you back up and running in a flash
Flexible deployments - Grow your stack as you need it without a CAPEX
All for one flat cost per month.
LTE Failover Edge Routers

Always connected, fully managed Edge Routers.
When the Internet is down, business usually stops. That's why we built the Datto Networking family of edge routers, to deliver affordable, always-connected Internet.
With fully integrated 4G LTE Internet failover combined with out of the box ready carrier service (no contract and no overages), Datto's edge routers enable an MSP to deliver always-connected Internet to its clients. That way, when an MSP's client loses its primary Internet connection, we automatically failover to the 4G LTE network. For the client, it's always connected Internet. For the MSP, it's network continuity to keep its client up and running.
The Datto Networking Appliance (DNA) is purpose-built for the MSP to deliver all-in-one networking in a single, compact device fully managed in the cloud. With robust edge routing, advanced VPN functionality, enhanced web content filtering, fully integrated 802.11ac WiFi, two WAN ports, 4 LAN ports, fully integrated 4G LTE failover and more, the DNA delivers everything an MSP needs to set up a network for its small to medium-sized clients.
Enhanced Web Content Filtering adds a vital security layer at the DNS level, stopping threats before they get to the network. Enhanced filtering also prevents any threats from communicating back out to the Internet. Because of this, Datto's edge routers are better equipped to prevent malware, ransomware, and command and control attacks.
The power behind this new enhanced level of threat protection is driven by Titan HQ, a service that crawls over 700 million URLs, 6 billion web pages in 200 languages, and reviews 5 trillion search queries in real-time, every single day. With millions of malicious URLs categorized in the system, and 100,000 new malicious entries being added every day, Datto's MSP partners can be confident in the DNA's and D200's ability to effectively protect against unwanted threats and attacks.
Datto Networking's edge routers deliver the advanced routing performance needed for any small to medium-sized client. With throughput speeds of up to 1.7 Gbps on the DNA (line rate on the D200), layer 7 deep packet inspection (DPI), NATing rules, client/site-to-site VPN functionality, traffic shaping, and more (all managed in the cloud), this is high-performance routing, purpose-built for the MSP.
POE Managed Switches

A full range of Managed POE Switches
We offer a full range of Managed POE Switches designed for the SMB. Available in 8, 24, and 48 port configurations with advanced features and a lifetime warranty we keep you always connected.
Datto Networking's E310 Series Switches deliver high-end performance without breaking the bank. Complete with layer 3 features, 10Gb uplinks with DAC support, 802.1X, and other enterprise-class features, the E310 Series delivers for virtually any SMB switching need.
Our Networking Switches are fully cloud-managed. That means you never have to wait for us to arrive on-site to troubleshoot or change a configuration.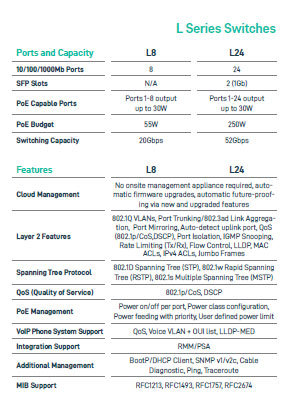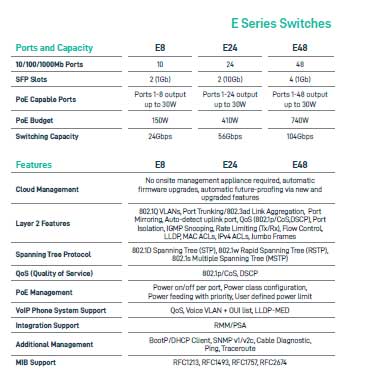 Wireless Access Points

Wave 2 Wireless mesh WiFi Access Points.
Our wireless access points can provide fast, reliable wifi to every customer or guest. Small Office, to Large Hotels our easy to deploy AP's have you covered.
Datto access points are designed for MSPs to ensure the best and broadest wireless coverage to meet SMBs' needs.
Our Networking access points are designed to be deployed in virtually any environment. With an operating temperature range starting at -20°C up to 50°C, both harsh cold and heat are not a problem. And with an IP55 rating, APs can be installed indoors or outdoors, withstanding dust and rain*.
*Optional Security covers are available.
Our Networking WiFi access points deliver powerful, seamless roaming for always-connected WiFi. With options ranging from our 2x2 Wave 2 AP42 to the tri-radio AP62, end users experience powerful WiFi, backed by Advantech and the team at Datto.
All our networking access points are mesh-enabled and get their power from PoE+ (802.3af/at). Access points work together to form a self-organizing, self-healing, encrypted mesh network with seamless WiFi roaming automatically enabled.
That means no more dead spots.
VOIP Systems
Full Featured Phone Systems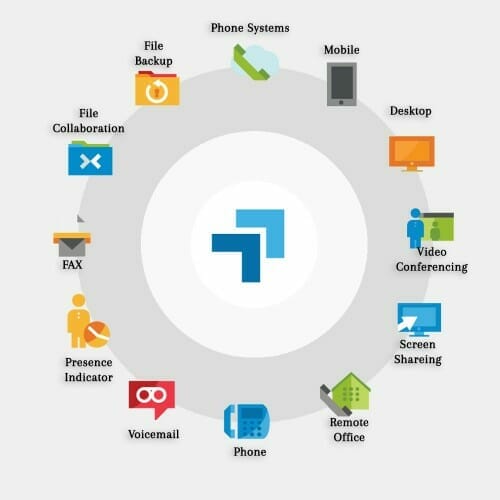 Highly Reliable
Simplified scaling & management
Increased productivity & collaboration
Business continuity

Lower cost
The Rest of the Puzzle